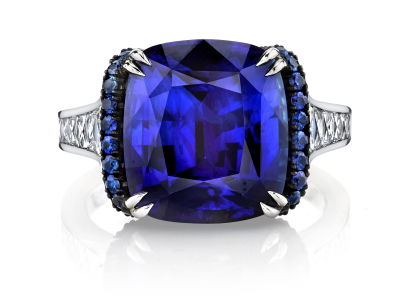 December 31st, 2019 – By Isabelle Corvin, CG, Staff Gemologist at Panowicz Jewelers.
Are you ready for 2020? This isn't just a New Year. It's a new decade. And a very futuristic sounding one! The Pantone Institute of Color is ready to look to the future, and recently announced their color of the year for 2020. Classic Blue (19-4052) is a primary color that Pantone says is reminiscent of the sky at dusk. The hue is deserving of the title "classic" as it is a shade of blue that is the quintessential blue color, unmarred by undercurrents of violet or green.
It is a little lighter than navy, but not as saturated as cobalt. Blue is a favorite color for many people and has always been associated with feelings of calm and serenity. It is also a color of loyalty, intellect, and thoughtfulness. The sky and the ocean, the truest embodiments of the blue we see in the natural world, remind us that possibilities are endless, and to slow down and enjoy life. Pantone seems to agree, stating that this is a stable, dependable hue.

A foundation for stepping into a new year. Blue pigments and dyes can be difficult to create, leading to patience and time-tested methods to produce the finest of colors. In many ancient cultures, blue coloring for clothes and paint was made using crushed gemstones such as lapis lazuli and azurite. Due to the nature of materials needed, and the skill in which it took to craft these pigments, blue was often a color reserved for those of high status. As for gemstones, the first stone to come to mind with this steady blue hue would be sapphire; the purest example of sapphire, with just the right amount of darkness to make it rich in color.
Sapphires are deserving of the title "classic" as well, having been the premier blue gemstone since antiquity. Symbolically, sapphires are said to be a stone of truth, faithfulness, and sincerity, reflecting the principals of Pantone's color for 2020 very well. Lapis lazuli and London blue topaz, although darker, are complementary colors sharing similar traits.

Classic Blue pairs well with yellow and white metals, leading to a fine example of the two-tone trends already seen in the jewelry industry. The blue color is definitive enough to lead to many design choices and could be accented by warm or other cool tone gemstones. The possibilities of this color in fashion are endless, as are the possibilities in this new decade we step into.
Blue is a color that calms and stimulates the mind. This appealing shade furthers this notion by providing a standard hue that everyone can relish. It is bold without being overpowering, subtle without being lost, and enhances other colors without overshadowing them. Classic Blue is sure to cause a bit of nostalgia in some, and hopefully a splash of new ideas and creative endeavors in all. 2020 is right around the corner. The start of a new decade.
The start of the future. Take a deep breath, grasp that Classic Blue vibe and step into your tomorrow. Jewelry images by American Gem Society (AGS) members. Visit ags.org/findajeweler to find an AGS jeweler near you.
Source: https://americangemsocietyblog.org/
Disclaimer: This story has been published from a wire agency feed without modifications to the text. Only the headline has been changed.