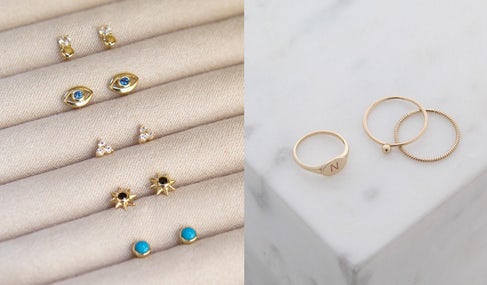 January 3rd, 2020 – Emili Vesilind


Canadian fine jewelry brand Mejuri is on a roll. The direct-to-consumer brand—which pioneered weekly fine jewelry "drops" on its website—secured $23 million in Series B funding in April, after raising $5 million in a Series A round in 2018 (the company had raised $1 million in seed funding prior to that). And now it's planning for an IPO, says Mejuri cofounder Noura Sakkijha.
The third-generation jeweler told news outlet BNN Bloomberg earlier this week that she hopes to take Mejuri public "in the near future." Sakkijha said there are no firm dates for an offering just yet, but in a filmed conversation she revealed that she launched Mejuri with plans to grow it very quickly, and with scale, noting, "I started talking to investors even before we went to go out fundraising."
The company's model is unique in that it takes the gifting component almost entirely out of the fine jewelry retail equation. Mejuri was designed as a fine fashion brand for self-purchasing women consumers, and the introduction of fresh product—which mirrors that of a fast-fashion apparel company—reflects its (perhaps arguable) status as a fashion brand that only happens to specialize in fine jewelry.
Mejuri's compressed supply chain allows product to go from from design to retail in roughly four to six weeks, according to Sakkijha. That nimbleness allows the brand to create limited batches of product and do its weekly drops of new merchandise without bloating its inventory. The model has also led to high rates of repeat customers, says the cofounder, who shared, "Our customers are coming every month…and 30% are women who have bought from us before." But with such a good—and highly lucrative—thing, does going public make sense for Mejuri? Or any jewelry brand, really?
JCK news director Rob Bates asked that very question in an article in November—citing Blue Nile's failure to thrive as a public company, among others: "Being a stand-alone public company may be particularly ill-suited for a jewelry business, given this industry has always been somewhat unique," he opined.
Because, "when you have to do quarterly reporting, it doesn't help [you take] a long-term view," Jean-Jacques Guiony, chief financial officer for LVMH, told JCK after LVMH announced it was acquiring Tiffany & Co. "We expect to bring Tiffany time and capital, which are things that are not that easy to get when you are reporting to the stock market."
Source: www.jckonline.com
Disclaimer: This story has been published from a wire agency feed without modifications to the text. Only the headline has been changed.