January 4th, 2020 – By Rob Bates
Blue Nile plans to open 50–100 brick-and-mortar webrooms in the next five years, the e-tailer's chief executive officer Sean Kell told the Puget Sound Business Journal. This would mean doubling the company's currently workforce from 500 to 1,000, he added.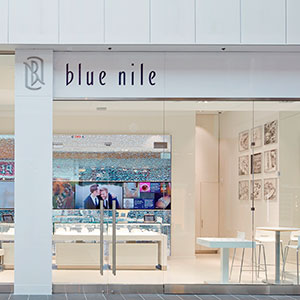 "For a product like this, it's expensive," he told the publication. "A lot of people love to see, feel, and touch the product." The publication also reported that Dave Fleischman, who formerly served as Blue Nile's chief product officer, was named its chief growth officer in September.
Kell was hired to lead the Seattle-based company in August. He previously headed A Place for Mom, the senior living referral service. Blue Nile opened its first webroom, at the Roosevelt Field mall in Garden City, N.Y., in 2015. Its website currently lists locations in Garden City; Salem, N.H.; Portland, Ore.; Tysons, Va.; and Bellevue, Wash.
There are no diamonds sold at these locations; visitors are coached on how to buy diamonds on the Blue Nile site. It's become increasingly common for digital-first retailers to open physical stores, including Blue Nile's online competitors in the diamond engagement ring space.
James Allen has opened a store in Washington, D.C., and this month it opened a concept store in Fairfax, Va., together with sister brand Jared. Brilliant Earth has eight showrooms in eight cities. The webrooms were a favorite initiative of the company's former president and CEO Harvey Kanter, who left the top job in June 2017, but remains the company's chairman.
Kanter had talked about opening between 25 and 50 webrooms, so Kell's current plans are considerably more ambitious. Bain Capital and Bow Street purchased the formerly public company in November 2016.
That acquisition slowed the rollout of the webroom concept, though chief financial officer Bill Koefoed told JCK in November 2018 that it was looking at reactivating the concept, though it expected to be "less focused on malls."
Source: www.jckonline.com
Disclaimer: This story has been published from a wire agency feed without modifications to the text. Only the headline has been changed.