January 17th, 2020 – Shane McGinley
The rough diamond market is already struggling, with 2019 set to be one of its worst years. Amish Shah, the CEO of New York-based ALTR Created Diamonds, says his company's lab-grown alternatives will help convince the region to fully embrace man-made gems

Who needs mined diamonds when you can get a strikingly similar lab-grown gem at nearly half the price? After all, the diamond industry's marketing campaigns are "beyond poor" and manufacturers and retailers alike have "lost connection with the consumer," at least according to Amish Shah, the CEO of ALTR Created Diamonds.

He's not wrong. De Beers' iconic 1947 marketing ploy "A Diamond is Forever" generated the 'myth' that the precious gems were rare masterpieces and helped the company's US diamond sales surge from just $23m in 1939 to $2.1bn in 1979, but things have changed and the allure seems to be wearing thin.

Data from De Beers in October showed that 2019 is set to be one of the worst years for the diamond industry. Oversupply and falling demand has seen prices for rough gems tumble, meaning the amount De Beers made at its eighth sale of newly mined diamonds was down nearly 40 percent year-on-year.

At the same time, iconic retailer Tiffany & Co earlier this month reported that third quarter net income decreased by 17 percent to $78m, with revenue unchanged at $1.015bn from a year earlier. The earnings were below analysts' expectations and came just days after French luxury giant LVMH, which also owns brands such as Moet & Chandon, Dom Perignon, Givenchy and Louis Vuitton, bought the company for $16.2bn.

But, to be fair, Shah does have an agenda. His company is not part of the traditional rough diamond market, but sells lab-grown alternatives, which are often of the same calibre but retail at cheaper prices. Shah says that millennials are increasingly open to lab-grown diamonds and his company is seeing huge growth in this sector, with plans to expand into the region and set up a new base in Dubai.

"We have a very unique scenario where we see exponential growth… We have grown 900 percent in the last three years. Currently, we are about 1 percent of the industry right now… We have contracts in place, we are already in 400 stores and by the end of the year we will have a rollout for 800 stores [worldwide]," he says.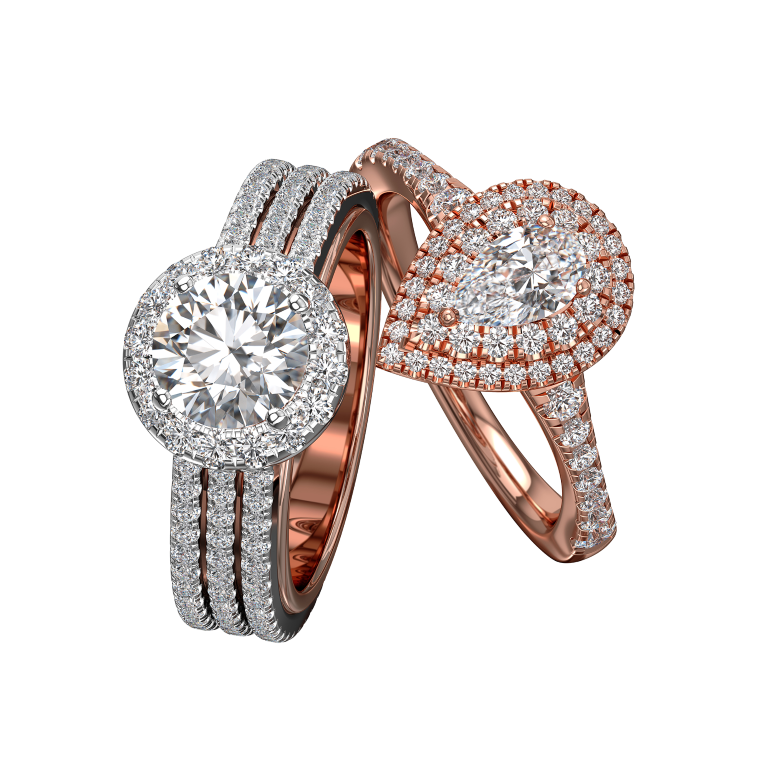 A diamond is a diamond?

The lab-grown diamond sector was dealt a massive endorsement last year when the US Federal Trade Commission updated its Jewelry Guides, stating that "a diamond is a diamond" regardless of its origin, whether it's dug rough from a mine or artificially created in a lab. Even traditional vendors are embracing the trend and in September 2018 De Beers Group launched Lightbox Jewelry, its subsidiary dedicated to selling lab-grown diamonds.Improvements in technology have also meant lab-grown variations have become much cheaper to produce, meaning their attractiveness to consumers has increased.

Most notably, new chemical vapor deposition (CVD) technology has cut the cost it takes to produce larger, higher-quality diamonds. Today, it costs around $300 to $500 per carat to produce a CVD lab-grown diamond, compared with $4,000 per carat in 2008, Bains and Company said in its 2018 industry report.

"So from a value perspective, from a price perspective, the price difference is between 30 to 40 percent depending on the size. From a diamond perspective itself, everything we grow is a Type 2 A diamond, which is actually the purist and less than 2 percent of the world's production," Shah says.

The volume of polished diamonds imported into Dubai fell from a peak of 69.63 million carats in 2013 to 33.69 million carats in 2018

Artificial gems to sparkle in Dubai?

Traditionally a brand-obsessed city, Dubai is home to consumers with high disposable income who demonstrate their wealth and status using assets such as diamonds. But the city is embracing the new trend and in May this year the Dubai Diamond Exchange hosted the world's first sale of lab-made diamonds held on a public exchange.

Rushabh Mehta, CEO of Hong Kong-based diamond trader Tony's Auction World, which organised the event, told The National newspaper: "Lab-grown diamonds offer a different value proposition to natural diamonds and trading them in a regulated and open platform increases the transparency and legitimacy of the sales process."

"This is a major milestone and testament to both the growing prominence of lab-grown diamonds and their increasing market appeal," he added.

Dubai's acceptance of lab-grown diamonds comes at a time when the city is reflecting the global slump in rough diamonds. The volume of polished diamonds imported into Dubai fell from a peak of 69.63 million carats in 2013 to 33.69 million carats in 2018, while the volume of diamonds exported fell from 47.55 million carats in 2013 to 23.47 million carats last year, according to statistics from the Dubai Diamond Exchange based on data from Dubai Customs.

Shah sees Dubai as a major hub for ALTR Created Diamonds' global expansion, as it aims to offer an alternative to the expensive mined gems. "I think the global market is starting to open up for the category. Dubai, especially when we look at the UAE, the size of the opportunity is much beyond what many might expect. And we can't forget that everyone in every part of the world wants a larger and a more beautiful diamond," he says.

Retailer talks

New York-based ALTR Created Diamonds is looking to set up a formal presence in Dubai and is in talks with retailers to sell its goods. "We are just entering the market space, especially in terms of the UAE. We will be opening an office and will start penetrating. We are also in conversations with a few retailers," he says.

"The idea would be to set up the distribution that would be focussed on the UAE market, as well as look for a hub for the overall Middle East. So there would be a dual focus," Shah says, adding that once its network is in place it can begin to market the merits of lab-grown diamonds.

"This would be working with existing retail chains that have a consumer footprint. Of course, we are in conversations with retailers about developing stores because we've been approached by a couple of retailers, one actually in Dubai and one in China that holds a good representation for the Middle East market. And we believe that the opportunity to create a new experience can be pursued by introducing creative diamonds."

At present, the company is based in the United States, Canada, New Zealand and Australia and is planning to use its base in Dubai to launch into the Middle East market and its new office in Poland to exploit the European opportunities."We ship to 35 countries and are slowly building the footprint because in every segment that you enter, you need a logistical hub and Dubai would probably be one of the best ones for this marketplace for the UAE and Middle East," he says.

Gem education

While Shah believes the traditional diamond industry has done a poor job of marketing itself to new consumers, the task he faces is in educating the consumer that lab-grown diamonds are just as precious as their rough mined rivals.

"I think the first, most important thing, is education and education for the consumer to know that they have a choice and that choice is getting a diamond that is not only the same but better. And that we have done in the US and Australia. The first step is to educate the salespeople in the stores… the first point of contact with the consumer. Offering the choice and then educating them and then empowering the consumer to research and make a decision," Shah says.

And Shah certainly has his work cut out. According to the Bain & Company report, "marketing and consumer perception will determine the effect of lab-grown diamonds on the natural diamond market. Three scenarios exist: Consumers could perceive lab-grown and natural diamonds as interchangeable, as two different products, or somewhere in between. Marketing could uphold the value of natural diamonds, especially if the prices of lab-grown diamonds continue to drop. It's probable that consumers will view lab-grown diamonds as fashion jewellery but not luxury goods, limiting the effect on natural diamond demand".

A cheap fake or a less costly equal? Ultimately, it is Dubai consumers who will decide.

For all the latest retail news from the UAE and Gulf countries, follow us on Twitter and Linkedin, like us on Facebook and subscribe to our YouTube page, which is updated daily.

fake diamonds fine jewellery gems and jewellery carats Dubai Retail Dubai retail sector dubai retail space Dubai retailers UAE retail market
Source: https://www.arabianbusiness.com/
Disclaimer: This story has been published from a wire agency feed without modifications to the text. Only the headline has been changed.